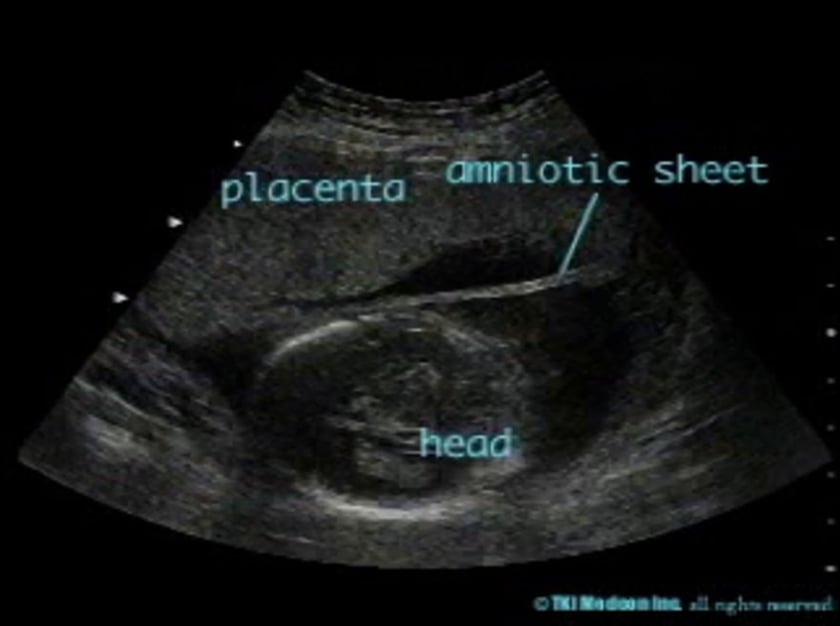 Amniotic sheet
The thick echogenic band of non-fused chorion and amnion is visible stretched across the sac. This is tight and has no free end.
Description
An amniotic sheet is due to a redundancy of the amnion and chorion. The location of an amniotic sheet within the uterus is highly variable. In one study the mean length and width of 79 amniotic sheets were 4.0 + 1.5 3 cm and 0.46 + 0.13 cm, respectively. When complications associated with a perpendicular or a parallel amniotic sheet were compared, breech presentation was significantly higher (50% vs. 3%; p < 0.001) with perpendicular amniotic sheets. The prevalence of vaginal bleeding was comparable between the two groups (perpendicular 36%; parallel, 43%). Since a control group was not provided in this study, it could not be determined if the recorded prevalence of bleeding was significant.
Diagnosis
Amniotic sheets were identified in 79 of 17,533 (0.45%) ultrasound examinations performed between 12 and 28 weeks' gestation. Amniotic sheets are progressively more difficult to visualize sonographically as gestational age advances.
Differential Diagnosis
An amniotic sheet must be differentiated from an amniotic band. The amniotic band syndrome is due to rupture of the amnion with entanglement of various fetal parts. A diagnosis of an amniotic band is suggested by the presence of multiple structural defects due to a disruption of normal embryologic development (i.e., an encephalocele, a missing extremity, etc). Occasionally, the thin amniotic bands can be visualized adherent to the identified congenital malformation. On the other hand, an amniotic sheet is a thicker, straight fold of amnion and chorion that usually runs along a portion of the placenta. If the uterus was previously scarred by infection or instrumentation, a synechia may result. Once a patient with a uterine synechia becomes pregnant, the amnion enfolds around the synechia. Hence, a synechia is covered by amnion on both sides. A uterine synechia is sonographically similar to an amniotic sheet. Since a uterine synechia is within the uterus, it may affect fetal life.
Sonographic Features
Amniotic sheets may occur either perpendicular or parallel to the placental surface.
As the placenta increases in size, it stretches parallel amniotic sheets, increasing their length and pulling them closer to the main body of the placenta.
It does not adhere to the fetus so it can move freely. It generally does not cause severe fetal malformations. Amniotic sheet is generally singular. It is formed by two layers of chorion and amnion membranes therefore it is thicker than an amniotic band.
It has a free round end.
Its origin point on uterus wall is triangle-shaped and broad-based.
Mahony BS, Filly RA, Callen PW, Golbus MS. The amniotic band syndrome: antenatal sonographic diagnosis and potential pitfalls. Am J Obstet Gynecol 1985;152:63-8.
Randel SB, Filly RA, Callen PW, Anderson RL, Golbus MS.
Amniotic sheets. Radiology 1988;166:633-6.
Korbin CD, Benson CB, Doubilet PM. Placental implantation on the amniotic sheet: effect on pregnancy outcome.
Radiology 1998;206:773-5.
 Lazebnik N, Hill LM, Many A, Martin JG. The effect of
amniotic sheet orientation on subsequent maternal and fetal
complications. Ultrasound Obstet Gynecol 1996;8:267-71.
Sistrom CL, Ferguson JE. Abnormal membranes in obstetrical ultrasound: incidence and significance of amniotic sheets
and circumvallate placenta. Ultrasound Obstet Gynecol 1993;
3:249-55.
de Pablo A, Calb I, Jaimovich L. Congenital constriction
bands: amniotic band syndrome. J Am Acad Dermatol 1995;
32:528-9.
Tan KB, Tan TY, Tan JV, Yan YL, Yeo GS. The amniotic
sheet: a truly benign condition? Ultrasound Obstet Gynecol
2005;26:639-43.
 Özkavukcu E, Halilo¤lu N. Gray-scale and color Doppler US
findings of amniotic sheets. Diagn Interv Radiol 2012;18:298-
302.
Bodamer OA, Popek EJ, Bacino C. Atypical presentation of
amniotic band sequence. Am J Med Genet 2001;100:100-2.
Brown DL, Felker RE, Emerson DS. Intrauterine shelves in
pregnancy: sonographic observations. AJR Am J Roentgenol
1989;153:821-4.
Finberg HJ. Uterine synechiae in pregnancy: expanded criteria for recognition and clinical significance in 28 cases. J
Ultrasound Med 1991;10:547-55.