Aortic valve atresia – pulmonary over-ride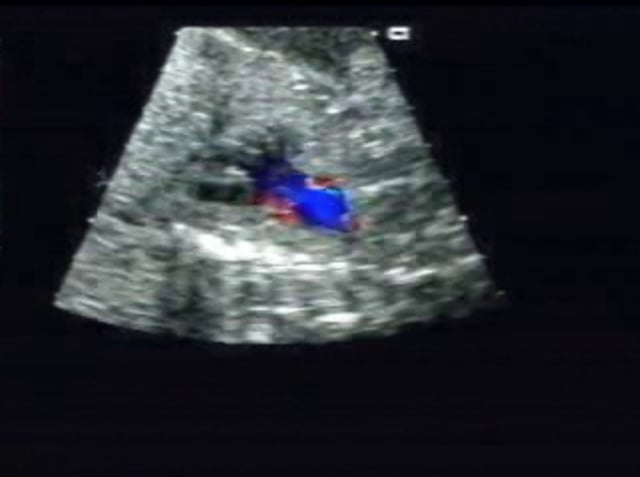 Aortic valve atresia, pulmonary override
There are two ventricles of equal size; a great artery arises astride the crest of the ventricular septum. This single great artery proves to be the pulmonary artery.
Description
In this rare condition, the aorta is atretic but there is a large ventricular septal defect with the pulmonary artery arising astride the defect. Postnatally, flow to the lower body and arch is supplied by the arterial duct. The infant will present with evidence of hypotension and collapse on the first days of life as the duct closes. Staged surgery will be required as this is a variant of the hypoplastic left heart syndrome, although in this setting the left ventricle is a normal size.
Diagnosis
Only one arterial valve will be found. This valve overrides the septum. The single great artery arising from the heart gives rise to the branch pulmonary arteries and duct. The aortic arch is fed retrogradely from the duct. An atretic ascending aorta may be seen as a thread behind the pulmonary artery.
Differential Diagnosis
This condition is easy to mistake for a common arterial trunk. The clue to differentiate the two is that the truncal valve tends to be thickened and abnormal, whereas the pulmonary valve will be thin and mobile.
Sonographic Features
One great artery arising astride the ventricular septum.
The single GA gives rise to the branch PAs.
Reverse flow in the aortic arch.
An atretic ascending aorta may be seen.
References
Freedom RM In: Paediatric Cardiology Anderson RH, McCartney FJ, Shinebourne EA, Tynan M (Eds). Churchill Livingstone: Edinburgh p737-765
Freedom RM In: Heart Disease in Infants, Children and Adolescents Adams FH, Emmanouilides GC, Riemenschneider TA (Eds) Williams & Wilkins: Baltimore p518-9