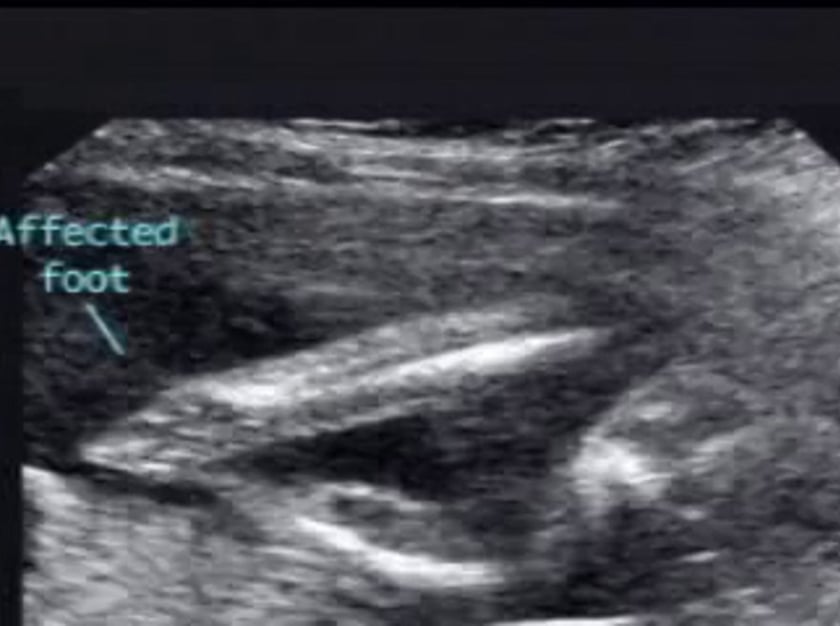 Apodia
Lower extremity appears normal down to the level of the ankle. There is poor development of the foot with some ossified bone remnants and nubbins.
Description
Apodia is defined as the absence of a foot or feet.
Diagnosis
It is not a difficult diagnosis to make on ultrasound provided that an adequate view of the limbs is possible.
Differential Diagnosis
Amniotic band syndrome
Sonographic Features
Absence of one or both feet
Amniotic bands should be sought
Associated Syndromes
 Acheiropodia (Brazil type)
 Amniotic bands/ amniotic rupture sequence
References
Nishi T, Nakano R Amniotic band syndrome: serial ultrasonographic observations in the first trimester J Clin Ultrasound 22:275-278
Froster UG, Baird PA Amniotic band sequence and limb defects: data from a population-based study Am J Med Genet 46:497-500
Burton DJ, Filly RA Sonographic diagnosis of the amniotic band syndrome. (Review) Am J Roentgenol 156:555-558