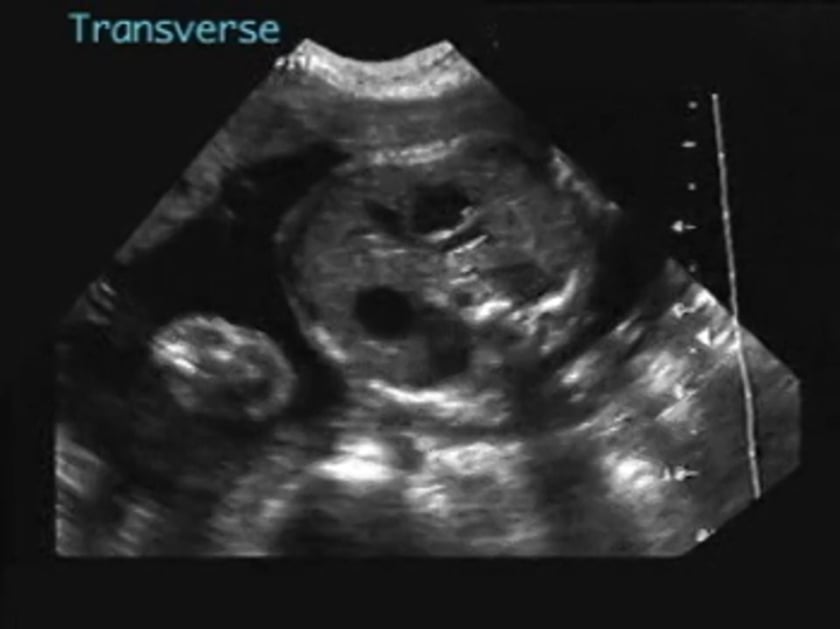 Choledochal cyst
The superficial appearances suggest a double bubble. However, it is seen that the choledochal cyst lies within the liver and in close relation to the umbilical vein.
Description
The choledochal cyst arises from dilatation of the common bile duct although other parts of the biliary tree, both intra- and extra-hepatic, may be involved. It is rare in the Western world, most cases being described from Japan. It may arise as a weakness in the duct wall.
Diagnosis
The cystic structure appears in the right half of the liver. The fetal gall bladder may be separately identified. There is no polyhydramnios.
Differential Diagnosis
The cyst must be distinguished from duodenal atresia and other cystic structures in the liver, mesentery, omentum and ovary. Duodenal atresia will usually be associated with polyhydramnios whilst intra-abdominal cysts will usually appear freely mobile within the abdominal cavity. A duplication cyst of the duodenum may have similar appearances to a choledochal cyst. A right multicystic dysplastic kidney or hydronephrosis will usually appear more posterior.
Sonographic Features
Echo-free non-pulsatile area in right upper abdomen
Cyst is located near the portal vein
Dilated bile ducts may be seen
Isolated lesion
References
Bancroft JD, Bucuvalas JC, Ryckman FC, Dudgeon DL, Saunders RC, Schwarz KB Antenatal diagnosis of choledochal cyst J Ped Gastero Nutri 18:142-145
Baunin C, Mechinaud-Puget C, Fajadet P, Vaysse P, Guitard J, Moscovici J, Visentin M, Viogt JJ Management of a biliary cyst disclosed prenatally. 2 cases Chir Pediatr (French) 31:160-163
Ellia F,Dugue Mrechaud MD,Levrd G,Bonneau D,Magnin G Choledochal cysts. A rare prenatal diagnosis J Gynecol Obstet Biol Reprod (French) 24:400-404
Tsang TM,Tam PK, Chamberlain P Obliteration of the distal bile duct in the development of congenital choledochal cyst J Pediat Surg 29:1582-1583