Double outlet right ventricle – aorta anterior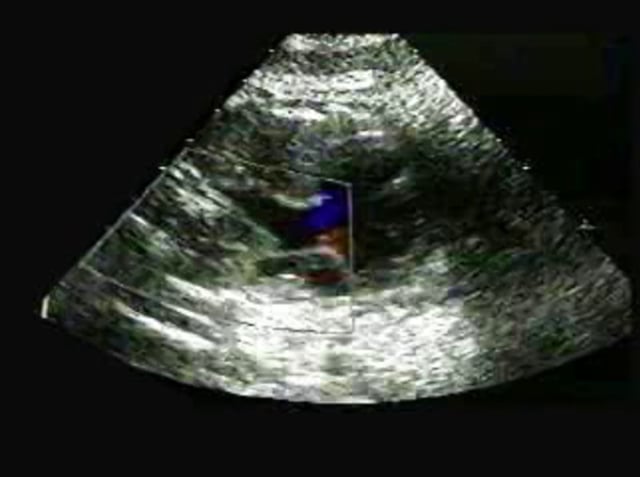 Double_Outlet_Right_Ventricle,_Aorta_anterior
The four chamber view appears normal but scanning cranially to this section, the pulmonary artery is seen to arise astride the ventricular septum, connected mainly to the right ventricle. The aorta arises anteriorly to the pulmonary artery also from the right ventricle. The great arteries arise in parallel orientation.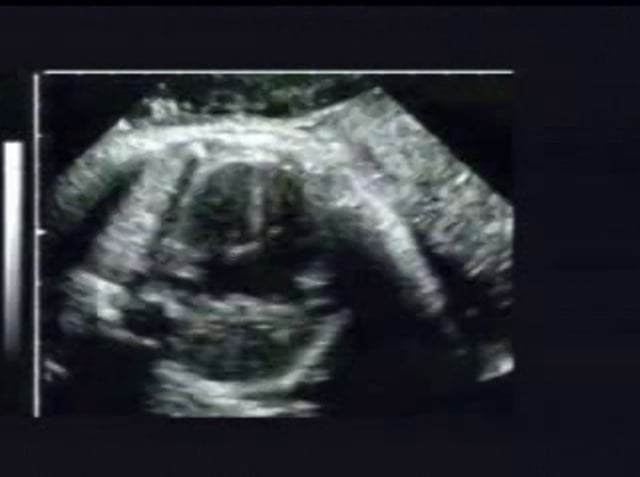 Double_Outlet_Right_Ventricle,_Aorta_anterior
Four chamber view is within normal limits. Maintaining a horizontal section and moving cranially two great arteries are seen arising from the right ventricle. The branching pulmonary artery is posterior and to the left of the aorta. The two great arteries are in parallel orientation at their origin.
Description
In this condition, both great arteries arise from the right ventricle with the aorta anterior to the pulmonary artery. There is always a ventricular septal defect but this can differ in size and position. It can occur in the setting of more complex heart disease, with an atrioventricular canal defect, for example, or mitral atresia. In its isolated form, the infant will usually present in the first weeks of life in heart failure due to unrestricted pulmonary blood flow. The surgical approach will depend on the site of the VSD. Palliative pulmonary artery banding may be necessary in the short-term with a view to later Rastelli repair; if the VSD is subpulmonary, arterial switch and direct VSD closure may be possible in infancy.
Diagnosis
There is no 'cross-over' of the great arteries as they arise in parallel orientation, both from the anterior right ventricle. Each great artery must be identified from its anatomical characteristics, that is, the aorta gives rise to the arch with three branches arising superiorly whereas the pulmonary artery divides into three branches which course laterally. The aorta typically arises anterior and to the right of the pulmonary artery. This arterial relationship can be seen in horizontal or longitudinal views of the fetus. The aortic arch is less of a tight 'hook' or 'candy cane' than normal because of its abnormally anterior origin. The ventricular septal defect communicating with the left ventricle is usually visible. The relationship between the site of the VSD and the great arteries is important for surgical repair.
Differential Diagnosis
The parallel arrangement of the great arteries in double outlet right ventricle can be mistakenly diagnosed as transposition with a ventricular septal defect; the differentiation is not important and the distinction is usually only a slight difference in the position of the pulmonary artery relative to the left ventricle. If the great arteries are incorrectly identified, it is possible to mistake this condition for the tetralogy of Fallot; both require surgical intervention but the outlook for tetralogy of Fallot is usually better.
Sonographic Features
No crossing-over of the great arteries.
Parallel orientation at their origin.
Aorta anterior to, and to the right of, the pulmonary artery.
'Wide' aortic arch VSD usually visible.
Associated Syndromes
CHARGE w/ AV canal
Retinoic Acid Embryopathy
Short Rib Polydactyly Syndrome non Majewski Type
Trisomy 13
Trisomy 18
Trisomy 9 mosaic
References
Wilkinson JL In: Paediatric Cardiology Anderson RH, McCartney FJ, Shinebourne EA, Tynan M (Eds). Churchill Livingstone: Edinburgh, p889-913
Allan LD, Sharland GK, Milburn A, Lockhart SM, Groves AMM, Anderson RH, Cook AC, Fagg NLK Prospective diagnosis of 1,006 consecutive cases of congenital heart disease in the fetus J Am Coll Cardiol 23:1452-8
Allan LD, Sharland G, Cook A In: Color Atlas of Fetal Cardiology Mosby-Wolfe: London, p119-123