Ebstein's malformation in corrected TGA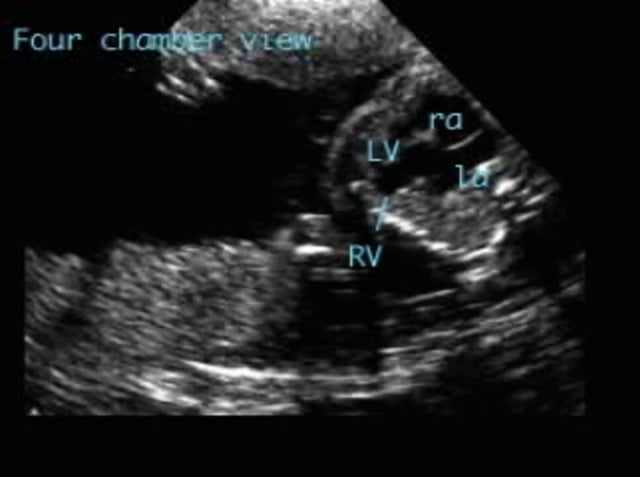 Ebstein's, corrected TGA
The posterior AV valve is displaced into the ventricular cavity. This Ebstein's malformation affects the tricuspid valve. This indicates that the posterior ventricle is the morphological R ventricle. Thus the R atrium is connected to the L ventricle, the L atrium to the R ventricle. The great arteries arise side by side with the aorta to the left of the pulmonary artery.
Description
If an apically displaced valve is seen in the posterior ventricle this is indicative of a discordant atrioventricular connection, as displacement of the mitral valve into the left ventricle is exceedingly rare. In this condition, a normally situated left atrium is connected to the morphological right ventricle via a tricuspid valve. The right ventricle will then give rise to the aorta. The right atrium is connected to the morphological left ventricle and this gives rise to the pulmonary artery. The condition is also known as corrected transposition. Aortic outflow may be compromised in severe degrees of Ebstein's malformation. An associated ventricular septal defect and pulmonary stenosis are common. Presentation will vary according to the dominant anatomical lesion. Surgical repair of Ebstein's malformation in this setting where the malformation is in the systemic ventricle is much more difficult than when the tricuspid anomaly is in the pulmonary ventricle.
Diagnosis
The four chamber view in the fetus will be abnormal if the tricuspid displacement is more than mild. The axis of the heart tends to be abnormal with the heart lying more centrally in the thorax. The left atrium will be variably dilated depending on the degree of tricuspid regurgitation. The aortic outflow tract may be narrowed. The aorta will lie anterior, in parallel orientation and to the left of the pulmonary artery. The pulmonary artery will be small if there is significant pulmonary stenosis.
Differential Diagnosis
There is no other possible diagnosis with this combination of sonographic features.
Sonographic Features
Displaced posterior (left-sided) atrioventricular valve on 4 chamber view.
Variable degree of tricuspid regurgitation (in posterior left-sided atrium) on 4 chamber view.
Abnormal cardiac axis (heart more central).
Associated Syndromes
Chromosomal
Fetal lithium syndrome
Wolff-Parkinson-White
References
Allan LD, Sharland GK, Milburn A, Lockhart SM, Groves AMM, Anderson RH, Cook AC, Fagg NLK Prospective diagnosis of 1,006 consecutive cases of congenital heart disease in the fetus J Am Coll Cardiol 23:1452-8
Allan LD, Sharland G, Cook A In: Color Atlas of Fetal Cardiology Mosby-Wolfe: London, p115-118
Losekoot TG, Becker AE In: Paediatric Cardiology Anderson RH, McCartney FJ, Shinebourne EA, Tynan M (Eds) Churchill Livingstone: Edinburgh, p880-881