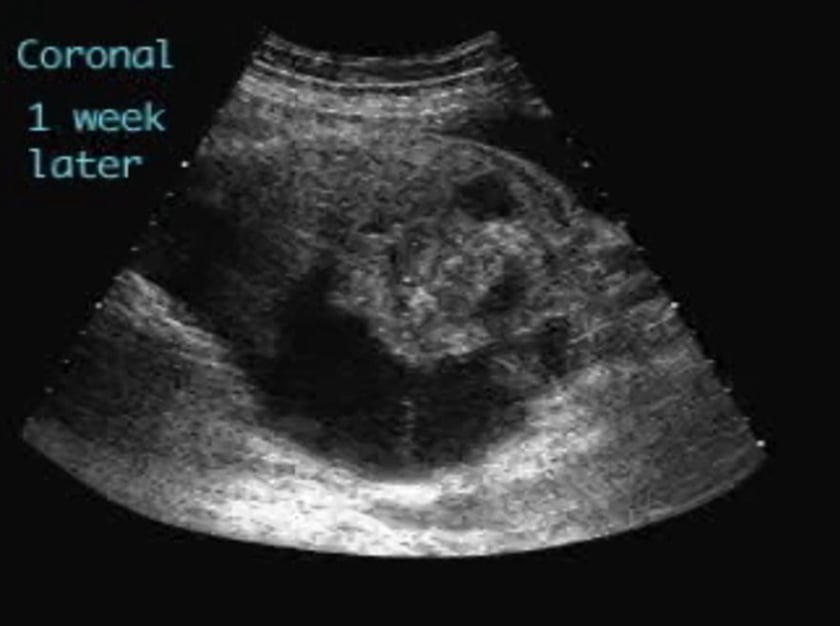 Meconium Peritonitis
Ascites developed at 32 weeks. The baby was confirmed to have cystic fibrosis postnatally. Note the collection of jelly-like meconium. Calcification is not a prominent feature possibly due to lack of pancreatic enzymes in the leaked meconium.
Description
Meconium peritonitis results from bowel perforation which arises probably secondarily to meconium ileus. The commonest association is with cystic fibrosis (25% to 40%), an autosomal recessive condition due to a gene deletion on chromosome 7. Why this condition should be associated with spontaneous perforation is unclear but probably relates to transient obstruction. The meconium which leaks from the bowel acts as an irritant, producing peritonitis and ascites. Pseudoascites may develop because the ascites becomes walled-off by the inflammatory process. Over time the pseudoascites may disperse in worst cases leaving a scaphoid abdominal wall. Intraabdominal calcification may remain. Meconium peritonitis is a serious condition with a mortality of about 60% in neonates who undergo surgery. In utero survival rates are hard to establish.
Diagnosis
The condition clearly goes through several phases. In the fibro-adhesive phase the ultrasound appearances produce a highly reflective intraabdominal mass. Ascites may develop later and this eventually forms a cystic mass, so called pseudoascites. Polyhydramnios may also occur. If the perforation has arisen from volvulus or an intestinal atresia these features will also exist.
Differential Diagnosis
True ascites needs to be distinguished from pseudoascites. In the former there is a rim of fluid between the liver and abdominal wall and the bowel is free in the abdominal cavity. Other causes of intestinal obstruction can be often impossible to establish. Cystic intraabdominal masses such as reduplication cysts and ovarian cysts need to be excluded. It is usually possible to determine that the cyst is discrete in distinction to a pseudoascites in which the whole of the abdomen is involved.
Sonographic Features
Bowel may be seen to contain echogenic material
Bowel distension secondary to obstruction (meconium ileus) may occur
Ascites may be seen in the acute phase
Pseudoascites may exist characterised by a large, cyst-like structure anterior to the bowel and below the fetal liver
In severe cases the baby may become inactive although this phase may pass
Polyhydramnios may develop possibly as a result of bowel obstruction
Local areas of calcification may be observed on the surface of the liver, peritoneal surface of the abdominal wall and around the bowel presumably in the omentum
Associated Syndromes
Bowel obstruction
Cystic fibrosis
Multiple intestinal atresia
References
Chitty LS, Griffen DR In: Ultrasound in Obstetrics and Gynaecology Eds. Dewbury K, Meire H, Cosgrove D. Churchill Livingstone. p357
Denholm TA, Crow HC, Edwards WH, Simmons GM, Marin-Padilla M, Bartrum RJ Prenatal sonographic appearance of meconium ileus in twins Am J Roentgenol 143; 371-372
McGahan JP, Hanson F Meconium peritonitis with accompanying pseudocyst; prenatal sonographic diagnosis Radiology 148; 125-126
Peters MT, Lowe TW, Carpenter A, Kole S Prenatal diagnosis of congenital cytomegalovirus infection with abnormal triple screen results and hyperechoic fetal bowel Amer J Obstet Gynecol 173; 953-4
Shalev J, Navon R, Urbach D, Mashiach S, Goldman B Intestinal obstruction and cystic fibrosis ; antenatal ultrasound appearance J Med Genet 20; 229-230
Slotnick RN, Abuhamad AZ Prognostic implications of fetal echogenic bowel Lancet 347; 85-87