Mitral valve – atresia, DORV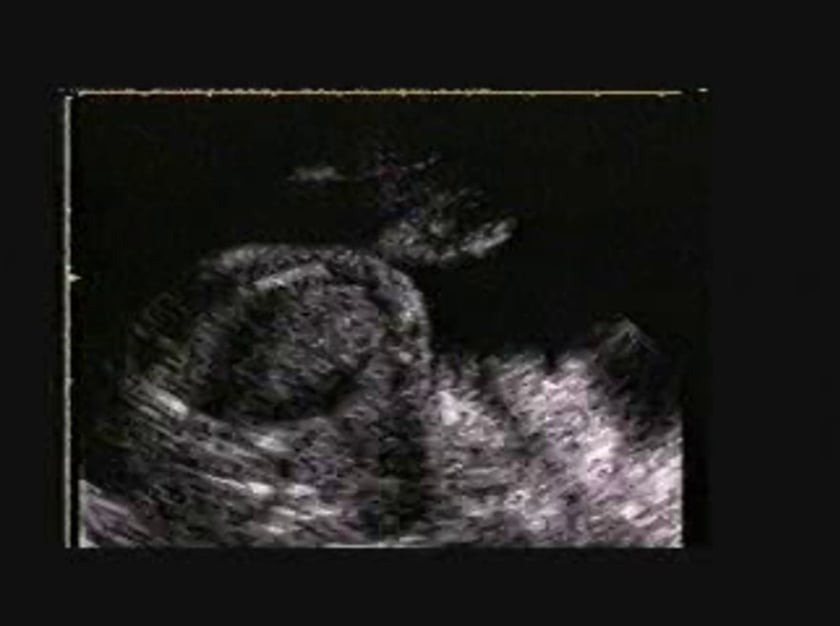 Mitral valve - atresia DORV
The left atrium and left ventricle are smaller than normal. The mitral valve is not patent. There is a ventricular septal defect through which blood enters and exits the left ventricle. The great arteries arise in parallel orientation with the aorta anterior to the pulmonary artery.
Description
In this condition, the mitral valve is not patent. It occurs in three settings. It most commonly occurs in association with aortic atresia in the hypoplastic left heart syndrome (HLHS), where the valve is present but miniature. The HLHS is discussed under aortic atresia. Alternatively, mitral atresia can occur with a normally connected but patent, aorta and ventriculoseptal defect (VSD) or with double outlet right ventricle (DORV). Mitral atresia, DORV: There tends to be muscular tissue obstructing the mitral valve. The aorta arises from the right ventricle, usually but not always anterior, to the pulmonary artery. There may be unrestrictive pulmonary blood flow, pulmonary stenosis or pulmonary atresia. This will dictate the timing and presenting symptoms. Early surgery will either restrict or augment pulmonary blood flow whichever is appropriate but both will lead eventually to a Fontan circulation with the right ventricle as the pump.
Diagnosis
In mitral atresia, the four chamber view in the fetus will be abnormal as the mitral valve does not open and the left ventricle is small. It will be smaller if there is a double outlet arterial connection than if the aorta is normally connected. There will be reversal of the interatrial shunt to left to right. There will usually be a ventricular septal defect visible. If the aorta is normally connected, the interventricular shunt will be all right to left. The main ventricular chamber is a morphological right ventricle, that is, it contains the moderator band and the tricuspid valve, which has chordal attachments to the free wall and septum. In fetal life, mitral atresia has a significant association with chromosomal anomalies (18%), usually trisomy 18, but 13, 21 and translocation/deletion syndrome are also possible. A chromosomal anomaly is more likely with DORV than with a normally connected aorta but a karyotype should be recommended in a continuing pregnancy.
Differential Diagnosis
In mitral atresia, there is only one patent atrioventricular valve seen. The differential diagnosis includes tricuspid atresia or a common atrioventricular valve. The position of the atrial septum and the anatomy of the primum portion should differentiate between these conditions. In mitral atresia, the primum septum is intact and the atretic valve lies posterior to the atrial septum. In addition, the main chamber must have the characteristics of a right ventricle.
Sonographic Features
Posterior atrioventricular (mitral) valve is not patent.
No flow across the posterior AV valve on colour flow mapping.
Left ventricle small or even impossible to find if DORV.
Left to right inter-atrial flow.
Main chamber is a right ventricle.
Associated Syndromes
Asplenia
Maternal lupus
Trisomy 15 mosaiciam
Wolf-Parkinson White
References
Freedom RM In: Paediatric Cardiology Anderson RH, McCartney FJ, Shinebourne EA, Tynan M (Eds) Churchill Livingstone: Edinburgh, p737-76

Allan LD, Sharland GK, Milburn A, Lockhart SM, Groves AMM, Anderson RH, Cook AC, Fagg NLK Prospective diagnosis of 1,006 consecutive cases of congenital heart disease in the fetus J Am Coll Cardiol 23:1452-8

Allan LD, Sharland G, Cook A In: Color Atlas of Fetal Cardiology Mosby-Wolfe: London, p59-69