Neuroblastoma of adrenal glands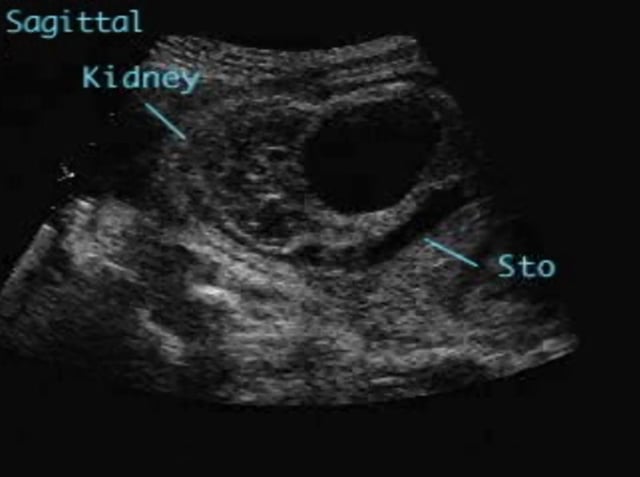 Neuroblastoma of adrenal glands
Observe the presence of the solitary cystic mass replacing the left adrenal, associated with rotation and caudal displacement of the ipsilateral kidney and associated vasculature; no hydrops is evident.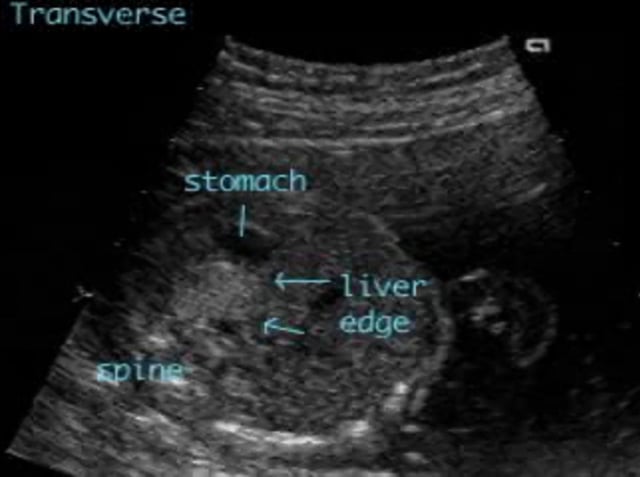 Neuroblastoma, adrenal
Observe the presence of the predominantly echogenic mass replacing the left adrenal associated with caudal displacement of the ipsilateral kidney and associated vasculature. Note that the echogenicity is not dependent upon transmission through the fluid filled stomach.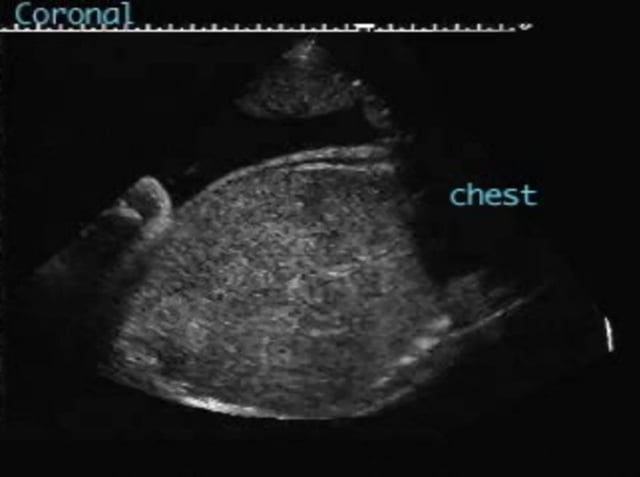 Neuroblastoma, metastatic to fetus
A diffuse solid mass distends the abdomen. The chest cavity appears proportionately small. The liver is massively enlarged and has a heterogeneous echo pattern with the echolucent areas representing tumour necrosis. Metastases within liver, brain and chest were confirmed on microscopic analysis. Colour Doppler interrogation indicates increased vascularity within the adrenal mass.
Description
Adrenal neuroblastoma is the most common neonatal abdominal tumor and represents 12 to 25% of all perinatal neoplasms with an incidence of 1/7,000 to 1/10,000 live births. They are reported to be more common in Caucasians and in males. Neuroblastomas arise from undifferentiated tissue of the adrenal medulla in 40 to 70%. They are otherwise derived from sympathetic ganglia in the abdomen, thorax, pelvis, head and neck. These tumours may represent neuroblastic rests and exhibit normal developmental variation with persistence into neonatal life, but their potential for malignant transformation must be considered. Adrenal neuroblastoma is usually unilateral; metastasis occurs in 50% of affected neonates, the most common sites being liver, subcutaneous tissue and placenta.
Diagnosis
Adrenal neuroblastoma has been prenatally diagnosed between 26 and 39 weeks of gestation. It often presents as a hyperechoic mass but may have mixed cystic and solid components. It is located retroperitoneally, superior to the kidney and separate from the liver. Hepatic or placental metastases may be found, and deposits have also been found in the fetal neck. The ipsilateral kidney may be displaced caudally and the inferior vena cava may also be displaced. Prenatal diagnosis is important since early detection and treatment results in an improved prognosis.
Differential Diagnosis
Adrenal haemorrhage may present with a cystic appearance in the same location and is very difficult to distinguish from a neuroblastoma unless subsequent examination demonstrates resolution of the mass. Pulsed and colour Doppler may also be helpful in differentiating neuroblastoma from adrenal haemorrhage. Adrenal lesions may also be mistaken for hydronephrosis, multicystic kidney or upper pole cystic dysplasia in an obstructed duplex collecting system. If there is liver involvement, a hepatoblastoma, hamartoma or haemangioma must be considered. Intraabdominal pulmonary sequestration may also present as a homogeneous, echogenic subdiaphragmatic mass. Other less common entities in the differential diagnosis include renal vein thrombosis, renal leiomyoma, retroperitoneal teratoma, Wilmsí tumour and mesoblastic nephroma. The last two tend to be more echogenic.
Sonographic Features
Cystic and/or solid mass of adrenal gland (retroperitoneal, separate from the liver and superior to the kidney)
Downward displacement of ipsilateral kidney
Displacement of inferior vena cava
Hydrops may be present
May be associated with fetal neck mass
Rarely, calcification in adrenal mass
Associated Syndromes
Beckwith-Wiedemann
Chromosomal
Familial
Phenytoin 
References
Jaffa AJ, Many A, Hartoov J, Kupperminc MJ, Peyser MR Prenatal sonographic diagnosis of metastatic neuroblastoma: report of a case and review of the literature Prenat Diagn 13: 73-77
Goldstein I, Gomez K, Copel J The real-time and color Doppler appearance of adrenal neuroblastoma in a third trimester fetus Obstet Gynecol 84:269-272
Dreyfus M, Neuhart D, Baldauf J, Casanova R, Becneur F, Ritter J Prenatal diagnosis of cystic neuroblastoma Fetal Diagn Ther 9: 269-272
Fleischer A, Romero R, Manning F, Jeanty P, James A Jr Genitourinary anomalies In: The Principles and Practice of Ultrasonography in Obstetrics and Gynecology. Appleton & Lange: Norwalk, p270-275
Nyberg D, Mahony B, Pretorius D Adrenal neuroblastoma In: Diagnostic Ultrasound of Fetal Anomalies, Text and Atlas. Year Book: Chicago, p480-484
Garmel S, Crombleholme T, Semple J, Bhan I Prenatal diagnosis and management of fetal tumors Semin Perinatol 18:350-365
Croitora DP, Sinsky AB, Laberge JM Cystic neuroblastoma J Pediatric Surg 27: 1320-1321
Fabro S, Brown NA Anticonvulsant-induced transplacental carcinogenesis Reproductive Toxicology Medical Letter Vol (1), #1
Koren G Neuroblastoma after prenatal exposure to phenytoin: cause and effect? Teratology 40: 157-162
McKusick V Chapter II In: Mendelian Inheritance in Man. Johns Hopkins University Press: Baltimore, p1592-1594
Romero R, Pilu G, Jeanty P, Ghidini A, Hobbins JC Congenital adrenal neuroblastoma In: Prenatal Diagnosis of Congenital Anomalies. Appleton & Lange: Norwalk, p296 299