Pulmonary valve – incompetence – absent PV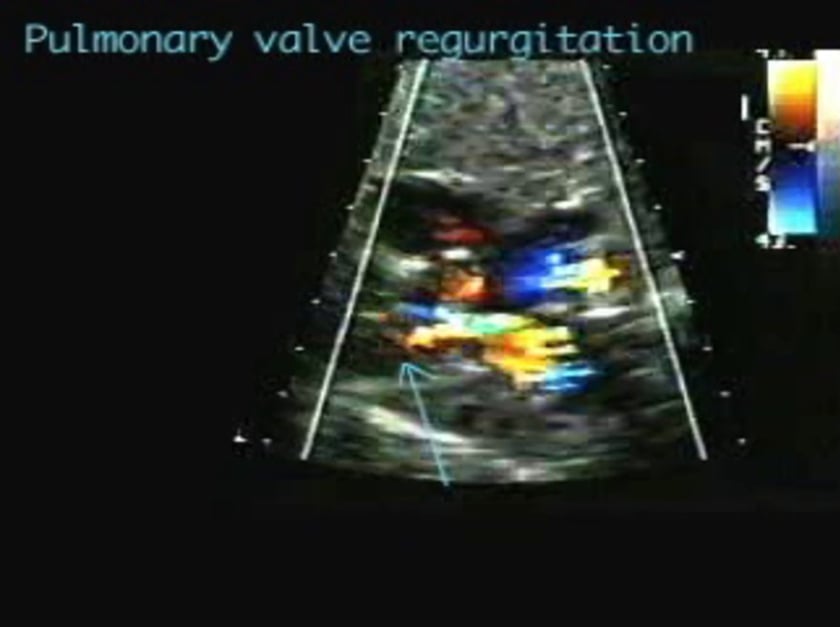 Pulmonary valve-incompetence(absent PV) Pulmonary valve dysplasia
The main and branch pulmonary arteries are dilated. There is free regurgitation across the pulmonary valve. The pulmonary valve cusps are incompletely formed dysplastic nodules.
Description
Severe pulmonary incompetence seen in utero is nearly always due to the 'absent pulmonary valve syndrome'. The term is a misnomer because there is usually tissue seen in the position of the pulmonary valve both echocardiographically and anatomically. A better name would be severe pulmonary valve dysplasia. The valve leaflets are very abnormal resulting in free pulmonary regurgitation and often massive dilatation of the main and branch pulmonary arteries. There is commonly an associated ventricular septal defect most often in the outlet septum. If the infant presents with symptoms in the neonatal period, the outlook for successful repair is poor. The main problem is bronchial obstruction from dilated branches of the pulmonary artery. If the infant survives with medical treatment until later in the first year of life, a repair which includes reconstruction and reduction of the pulmonary arteries may be successful. Transient mild pulmonary regurgitation can occur in an otherwise normal heart and has no significance. In this setting, right ventricular or branch PA dilatation does not occur.
Diagnosis
In the absent pulmonary valve syndrome, the four chamber view may be fairly normal, but more commonly there is right ventricular dilatation due to severe pulmonary regurgitation which will be evident on colour flow mapping. The VSD may also be visible as it tends to be large and in the subaortic position. Above the four chamber view, the massively dilated pulmonary artery and its branches come into view. They have a cystic appearance but their vascular nature can be determined by colour flow mapping. Typically, there is bidirectional flow within these vessels and no arterial duct.
Differential Diagnosis
The cystic masses in the upper thorax have in the past been mistaken for mediastinal masses but with the use of colour flow mapping the vascular nature and the connection to the pulmonary artery system should be apparent. Severe pulmonary incompetence is unlikely to be associated with any other diagnosis than the absent pulmonary valve syndrome.
Sonographic Features
Pulmonary incompetence – moderate or severe
Main and branch pulmonary artery dilatation, may be massive 
Right ventricular dilatation VSD, usually outlet but may be muscular
References
Allan LD, Sharland GK, Milburn A, Lockhart SM, Groves AMM, Anderson RH, Cook AC, Fagg NLK Prospective diagnosis of 1,006 consecutive cases of congenital heart disease in the fetus J Am Coll Cardiol 23:1452-8
Allan LD, Sharland G, Cook A In: Colour Atlas of Fetal Cardiology Mosby-Wolfe: London, p101-109
Emmanouilides GC, Doroshaw RW In: Heart Disease in Infants, Children and Adolescents Adams FH, Emmanouilides GC, Riemenschneider TA (Eds) Williams and Wilkins: Baltimore, p301-308
Ettedgui JA, Sharland GK, Chita SK, Cook A, Fagg N, Allan LD Absent pulmonary valve syndrome with ventricular septal defect: role of the arterial duct Am J Cardiol 66:233-4
Callan NA, Kan JS Prenatal diagnosis of tetralogy of Fallot with absent pulmonary valve Am J Perinatol 8:15-7
Sameshima H, Nishibatake M, Ninomiya Y, Tokudome T Antenatal diagnosis of tetralogy of Fallot with absent pulmonary valve accompanied by hydrops fetalis and polyhydramnios Fetal Diagn Ther 8:305-8
Ohba T, Matsui K, Nakamura S, Nishimura K, Ito M, Okamura H Tetralogy of Fallot with absent pulmonary valve detected by fetal echocardiography Int J Gynaecol Obstet 32:71-4
Fouron JC, Sahn DJ, Bender R, Block R, Schneider H, Fromberger P, Hagen-Ansert S, Daily PO Prenatal diagnosis and circulatory characteristics in tetralogy of Fallot with absent pulmonary valve Am J Cardiol 64:547-9