Tetralogy of Fallot with pulmonary stenosis
Tetralogy of Fallot with pulmonary stenosis
Typically the four chamber view is normal. The aorta arises astride the crest of the ventricular septum (aortic override). The pulmonary artery is hypoplastic indicating a degree of pulmonary stenosis.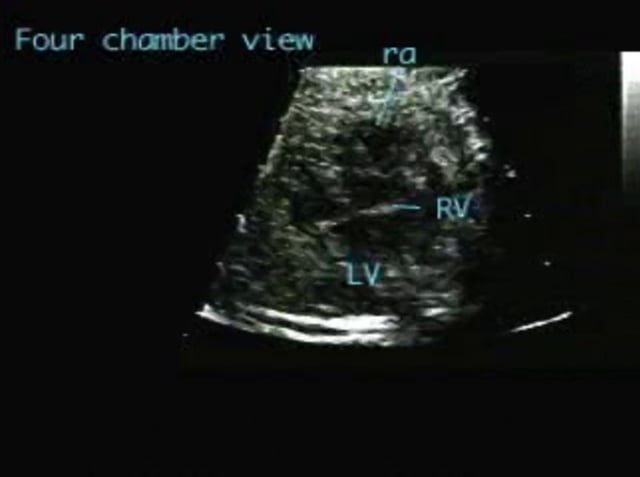 Tetralogy of Fallot with pulmonary stenosis
The ventricular septal defect is large and extends into the four chamber view. Both great arteries arise predominantly from the right ventricle. The great arteries are normally related. The pulmonary artery is much smaller than the aorta indicating pulmonary stenosis.
Description
This condition is made up of four components: anterior deviation of the aorta, a ventricular septal defect, infundibular subpulmonary stenosis, and right ventricular hypertrophy. The infant will present with cyanosis which tends to increase in the first months or year of life. The infant may suffer from ëspellsí which can be life-threatening and are related to infundibular spasm causing severe cyanosis and pallor due to vasoconstriction, often associated with loss of consciousness. If the anatomy is favourable, elective correction of this condition usually takes place between 9 months and 2 years of age. If spells or severe cyanosis force surgery before this time, a shunt placement may be offered as initial palliation. Repair of tetralogy of Fallot is associated with a good long-term prognosis (over 30 years) in ideal circumstances with ideal anatomy. However, a small number of cases (perhaps 10%) have associated lesions such as additional VSDs, branch pulmonary artery or peripheral pulmonary artery stenosis which will complicate surgical repair.
Diagnosis
The four chamber view of the fetal heart is usually normal. On long-axis views of the left ventricle the ventricular septal defect and aortic override are seen. There is anterior displacement of the aorta, seen particularly in longitudinal views. The other features of tetralogy, subpulmonary stenosis and right ventricular hypertrophy, may not be very evident in the fetus. The pulmonary artery may be smaller than the aorta, which is always abnormal. Late in pregnancy, the aorta may appear dilated and be large for the gestational age when compared to normal growth charts.
Differential Diagnosis
A malaligned ventricular septal defect and aortic override may be an isolated defect, or can occur with a common arterial trunk or with pulmonary atresia. It may be impossible to differentiate between an isolated malaligned VSD (which is rare) and tetralogy of Fallot (which is common) if the pulmonary artery is a normal size; the differentiation is not very important in terms of implications or prognosis as both will require surgical repair. It is important, however, to differentiate between a common arterial trunk or tetralogy of Fallot with pulmonary atresia from a simple tetralogy with pulmonary stenosis. The two former conditions are much more complicated as regards subsequent management and surgery.
Sonographic Features
Sub-aortic VSD.
Aortic override, anterior displacement of the aorta.
Infundibular narrowing and turbulence to flow (sometimes).
PA smaller than normal for the gestation but normally positioned.
Aorta may be mildly dilated in later pregnancy.
Associated Syndromes
CHARGE
DiGeorge Sequence
PKU
Retinoic Acid Embryopathy (accutane Embryopathy)
Shprintzen (Velo Cardio-Facial)
t14q-
Thalidomide
Trimethadione
References
Anderson RH, McCartney FJ, Shinebourne EA, Tynan M (Eds) In: Paediatric Cardiology Churchill Livingstone: Edinburgh, p765-799
Allan LD, Sharland GK, Milburn A, Lockhart SM, Groves AMM, Anderson RH, Cook AC, Fagg NLK Prospective diagnosis of 1,006 consecutive cases of congenital heart disease in the fetus J Am Coll Cardiol 23:1452-8
Allan LD, Sharland G, Cook A In: Colour Atlas of Fetal Cardiology Mosby-Wolfe: London, p101-109
Zuberbuhler JR In:Heart Disease in Infants, Children and Adolescents Adams FH, Emmanouilides GC, Riemenschneider TA (Eds) Williams and Wilkins: Baltimore, p273-289
Allan LD, Sharland GK The prognosis in fetal tetralogy of Fallot Pediatric Cardiol 13:1-4
Gembruch U, Weinraub Z, Bald R, Redel DA, Knopfle G, Hansmann M Flow analysis in the pulmonary trunk in fetuses with tetralogy of Fallot by colour Doppler flow mapping: two case reports Europ J Obstet Gynecol Reprod Biol 35:259-65
Hornberger LK, Sanders SP, Sahn DJ, Rice MJ, Spevak PJ, Benacerraf BR, McDonald RW, Colan SD In utero pulmonary artery and aortic growth and potential for progression of pulmonary outflow tract obstruction in tetralogy of Fallot J Am Coll Cardiol 25:739-45