Tricuspid valve – dysplasia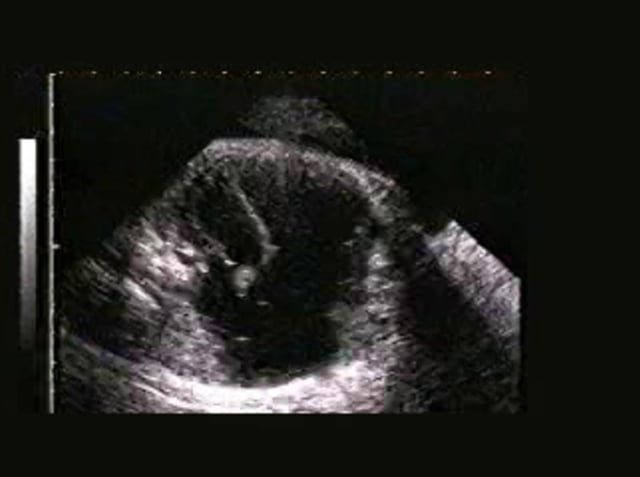 Tricuspid valve - dysplasia
There is massive cardiomegaly due to gross dilatation of the right atrium and ventricle. The tricuspid valve is thickened, dysplastic and freely regurgitant. The main pulmonary artery is smaller than normal. Functional, or even anatomical pulmonary atresia, is frequently associated.
Description
This condition is seen much more commonly in the fetus than the infant as it is readily detected in utero because of cardiomegaly. Anatomically, the tricuspid valve is nodular and thickened. Secondary lung hypoplasia as a result of long-standing compression from severe cardiomegaly can be a lethal associated feature. Obstruction to the right ventricular outflow tract is common in the form of pulmonary stenosis or even atresia. The infant will present with difficulties with ventilation if the cardiomegaly has been severe, or with early signs of cyanosis. The neonatal mortality is high. If the infant survives until the pulmonary artery pressure falls after birth, the degree of tricuspid incompetence will decrease. The intermediate term results of this condition are as yet unknown. It may be possible to plicate or even replace the tricuspid valve surgically, but this has not proved necessary to date in the few patients who have survived the neonatal period.
Diagnosis
The four chamber view in the fetus will be abnormal. Cardiomegaly is evident due to right atrial and ventricular enlargement. The cardiothoracic ratio is usually increased. Tricuspid valve thickening may be appreciated on the echocardiogram but there will also be a variable degree of tricuspid regurgitation seen on pulsed or colour flow Doppler. The right atrium may extend to the lateral right chest wall if tricuspid regurgitation is severe. The pulmonary artery may be small and can be completely obstructed in which case it will fill retrogradely from the duct.
Differential Diagnosis
Tricuspid dysplasia can be difficult to distinguish from Ebstein's malformation; the two overlap each other in terms of anatomical findings. The differentiation is not important. The dilated right atrium may be mistaken for an intrathoracic cyst but blood flow within the chamber should distinguish the two.
Sonographic Features
Thickened tricuspid valve leaflets.
Right atrial dilatation.
Right ventricular dilatation.
Tricuspid incompetence.
Increased C/T ratio.
References
Sharland GK, Chita SK, Allan LD Tricuspid valve dysplasia or displacement in intrauterine life J Am Coll Cardiol 17:944-949
Lang D, Oberhoffer R, Cook A, Sharland GK, Allan LD, Fagg N, Anderson RH The pathological spectrum of malformations of the tricuspid valve in prenatal and neonatal life J Am Coll Cardiol 17:1161-7
Allan LD, Sharland GK, Milburn A, Lockhart SM, Groves AMM, Anderson RH, Cook AC, Fagg NLK Prospective diagnosis of 1,006 consecutive cases of congenital heart disease in the fetus J Am Coll Cardiol 23:1452-8
Allan LD, Sharland G, Cook A In: Colour Atlas of Fetal Cardiology Mosby-Wolfe, London, p75-83
Anderson RH, McCartney FJ, Shinebourne EA, Tynan M (Eds) In: Paediatric Cardiology Churchill Livingstone: Edinburgh, p721-737