Tricuspid valve regurgitation isolated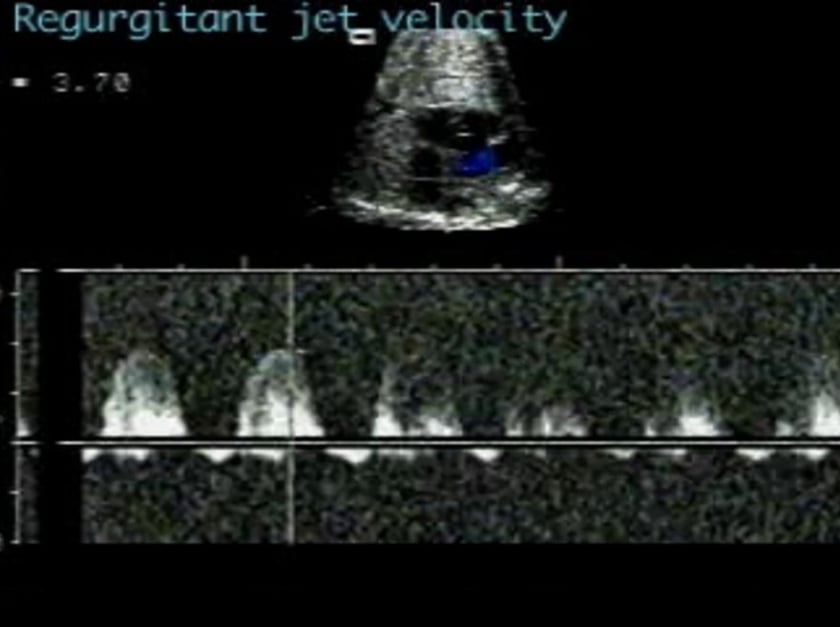 Tricuspid valve - regurgitation
The heart is enlarged due to right atrial dilatation as a result of moderate tricuspid regurgitation. The right ventricular pressure predicted from the maximum velocity of the tricuspid jet is within the normal range for this gestational age.
Description
In this condition, there is tricuspid regurgitation in the absence of tricuspid valve abnormality. It may be mild, moderate or severe. Mild transient tricuspid regurgitation of no pathological significance is probably not uncommon, although less common than postnatally. If moderate or severe, there may be associated right atrial enlargement and cardiomegaly. It can be due to a tachycardia, sympathomimetic treatment, ductal constriction secondary to non-steroidal anti-inflammatory ingestion or be idiopathic. Tricuspid regurgitation precedes ductal constriction due to NSAIDs. It will usually resolve with cessation of the tachycardia or drug treatment. Tricuspid regurgitation per se does not usually cause compromise in the neonate. However, if it has been severe and longstanding in utero there may be some degree of secondary pulmonary hypoplasia.
Diagnosis
In the four chamber view, the right heart may be dilated. The cardiothoracic ratio will be increased if the tricuspid regurgitation is more than moderate. Blood flows from the right ventricle to the right atrium through the tricuspid valve during systole on pulsed or colour Doppler. The tricuspid valve is morphologically normal. The right ventricular pressure may be determined from the tricuspid jet and this may help to clarify the cause. The duct may be small in size and show an increased velocity of flow if there is associated ductal constriction. There may be increased flow reversal in the inferior vena caval Doppler
Differential Diagnosis
Reversal of flow in systole in the tricuspid valve indicates tricuspid regurgitation. Care must be taken to exclude Ebstein's malformation or tricuspid dysplasia as the underlying cause.
Sonographic Features
Cardiomegaly, increased C/T ratio, usually mild.
Normal tricuspid valve.
Tricuspid regurgitation in systole.
References
Respondek ML. Kammermeier M. Ludomirsky A. Weil SR. Huhta JC The prevalence and clinical significance of fetal tricuspid valve regurgitation with normal heart anatomy Am J Obstet Gynecol 171:1265-70

Respondek M. Weil SR. Huhta JC Fetal echocardiography during indomethacin treatment Ultrasound Obstet Gynecol 5:86-9