Tricuspid valve – unguarded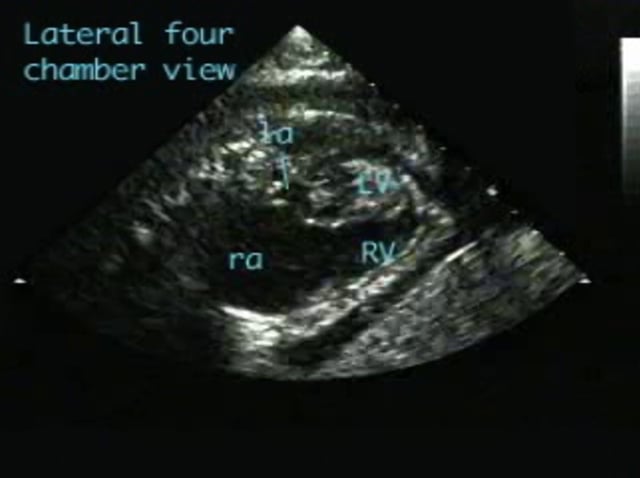 Tricuspid valve - unguarded
The heart occupies most of the fetal thorax because of right atrial and ventricular dilatation. There is no discernible tricuspid valve tissue at the valve ring or displaced into the ventricle and there is free regurgitation into and out of the right ventricle.
Description
In this very rare condition, the tricuspid valve leaflets are rudimentary. The condition is usually fatal in utero or in early neonatal life. Tricuspid valve replacement is a theoretical possibility if the neonate survives to a surgical procedure. Valve replacement is problematic in children as an artificial valve has to be replaced with growth and anticoagulants are necessary.
Diagnosis
No tricuspid valve leaflets are seen in the site of the tricuspid valve. There is free tricuspid regurgitation with dilatation of the right atrium and ventricle. There is often progression to hepatic congestion and hydrops. The cardiothoracic ratio is increased.
Differential Diagnosis
The condition could be mistaken for Ebstein's malformation but the degree of incompetence is likely to be much more severe in an unguarded orifice.
Sonographic Features
No tricuspid leaflets seen.
Severe tricuspid incompetence.
Right atrial dilatation.
Increased C/T ratio.
References
Kanjuh VI, Stevenson JE, Amplatz K, Edwards JE Congenitally unguarded tricuspid orifice with coexistent pulmonary atresia Circulation 30:911-917