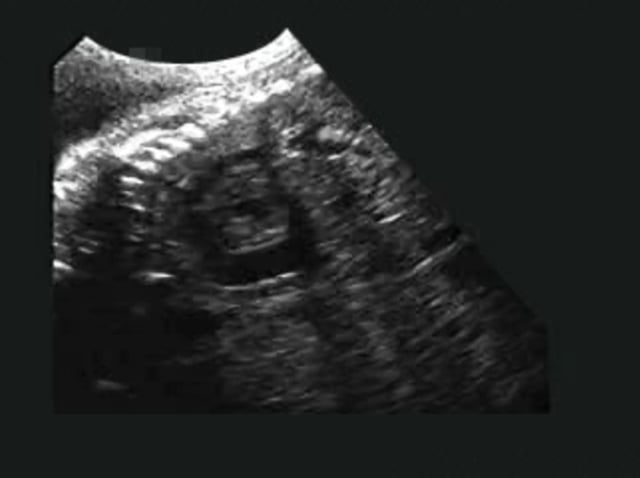 Tumour - pericardial
There is a moderate sized circumferential pericardial effusion. There is a large multicystic tumour in the pericardial cavity, attached to the right atrium and compressing the right heart.
Description
Pericardial teratoma is a rare condition in the fetus. This cystic tumour can compress the heart and cause fetal hydrops depending on its site. It tends to be related to the right atrium. It is histologically benign but because of its size, it will usually lead to spontaneous intrauterine death. If the fetus survives to delivery, it may be possible to remove the tumour completely at surgery.
Diagnosis
There is a multicystic mass, usually related to the right atrium, projecting into the pericardial cavity. There will be an associated pericardial effusion. The tumour may obstruct flow to the right side of the heart and cause fetal hydrops. The right heart may be underdeveloped as a result of restriction to blood flow.
Differential Diagnosis
There is no alternative diagnosis if a cystic mass in seen in the pericardial cavity. Congenital cystic adenomatoid malformations of the lung do not usually cause a pericardial effusion; they may displace the heart but will seldom cause flow obstruction.
Sonographic Features
Cystic mass in pericardial sac.
Pericardial effusion.
Cardiac displacement or local chamber compression.
May be fetal hydrops.
References
Losekoot TG, Becker AE In: Paediatric Cardiology Anderson RH, McCartney FJ, Shinebourne EA, Tynan M (Eds). Churchill Livingstone: Edinburgh, p1153-1165
Allan LD, Sharland GK, Milburn A, Lockhart SM, Groves AMM, Anderson RH, Cook AC, Fagg NLK Prospective diagnosis of 1,006 consecutive cases of congenital heart disease in the fetus J Am Coll Cardiol 23:1452-8
Allan LD, Sharland G, Cook A In: Colour Atlas of Fetal Cardiology Mosby-Wolfe: London, p137-141
Bharati S, Lev M In: Heart Disease in Infants, Children and Adolescents Adams FH, Emmanouilides GC, Riemenschneider TA (Eds) Williams and Wilkins: Baltimore, p886-890
Groves AM, Fagg NLK, Cook AC, Allan LD Cardiac tumours in intrauterine life Arch Dis Child 67:1189-92
Ake E, Fouron JC, Lessard M, Boisvert J, Grignon A, van Doesburg NH In utero sonographic diagnosis of diaphragmatic hernia with hepatic protrusion into the pericardium mimicking an intrapericardial tumor Prenat Diagn 11:719-24
Alegre M, Torrents M, Carreras E, Mortera C, Cusi V, Carrera JM Prenatal diagnosis of intrapericardial teratoma Prenat Diagn 10:199-202
Cyr DR, Guntheroth WG, Nyberg DA, Smith JR, Nudelman SR, Ek M Prenatal diagnosis of an intrapericardial teratoma: a cause for nonimmune hydrops J Ultrasound Med 7:87-90